Ultimate Puppy Course
Everything you need to get your puppy off to the best start!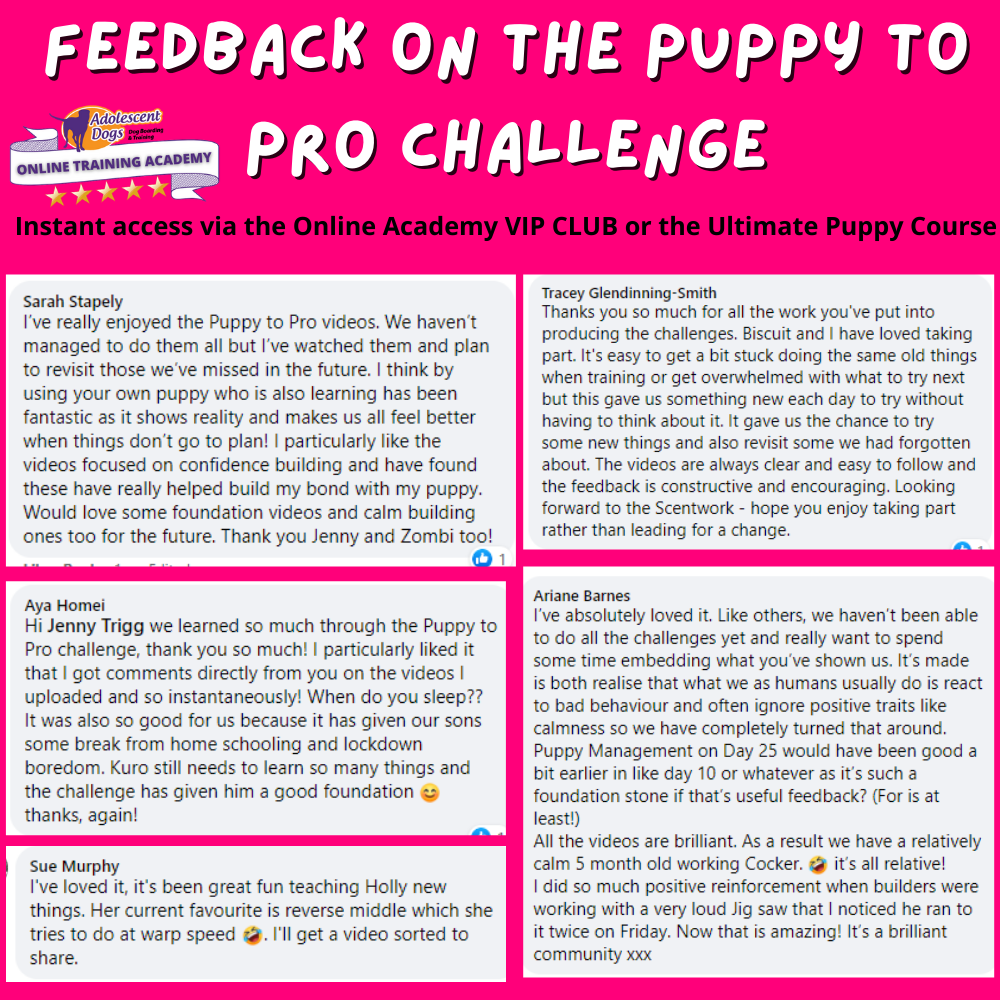 The Ultimate Puppy Course includes lifetime access to:
Foundation Skills Course
Puppy Diaries
Puppy to Pro Challenge
Lectures
Canine Socialisation Webinar
Food Rewards 101 Webinar
Ebooks
We've got you covered for all the training you need for your new puppy!
If you're keen to get your puppy's training right from day 1, then this is the perfect course to start from as early as 8 weeks of age.
You'll have instant access over 58 bite sized video tutorials that you can watch at a time to suit you, and you'll keep your content for life
What will your puppy learn?
Foundation Skills: teaching your puppy core skills such as Sit, Down, Wait, Heel, Come, Leave, Bed, Settle, Play Skills & Confidence Building
Puppy Diaries: top tips for getting it right from the start, including a puppy shopping list, how to build the perfect puppy area, separation & sleep training, jumping up, training around cats, settling, attention seeking, enrichment, plus how & when to train
Lectures: straight forward advice on toilet training, play biting, jumping up, barking, castration, manners around visitors, plus how to use Markers in training and building motivation for food rewards
30 Day Puppy to Pro Challenge: everything we teach our new 8 week old puppy from day 1. Includes engagement games, fun tricks, confidence building, body awareness, handling and focus
Webinars: Canine Socialisation Webinar to teach you how to get socialisation right from the start, and how to avoid common behavioural problems from developing. Food 101 Webinar, explaining how to use food correctly in training, and how to build other types of reinforcers into your training
Ebooks: On everything! Toilet training, biting, training around kids, jumping, crate training, stealing, dog socialisation, people socialisation, resource guarding, problem behaviours and more!
We only train using positive, reward based training methods
Only £199 for Lifetime Access.
Or come join our VIP CLUB to access this course, plus all of our other courses for only £28 per month